5 YEARS OF LIVE SOUNDTRACK
30.11.2019. / 22:00 / KVAKA 22
During the 1st edition of Kinoskop, Kino pleme, an audio-visual initiative and analog film lab based in Belgrade celebrates 5 years of their monthly program Live Soundtrack.
Ideas of Live Soundtrack have always been connected to adventurous programming and spirit of (re)discovery. Through screening rarely seen works of short experimental cinema and animation from around the globe, event has brought together musicans from (local) electronic, ambient and electro-acoustic circuits, and created an atmosphere of synaesthetic flourishes and synthesis of sounds in a manner which historically links it to the scoring of more freewheeling and forward looking works of cinema. Live Soundtrack has a history of over 50 curated events and appearances in local film festivals and cultural manifestations abroad, with 140 musicians and visual artists who have performed at the event, some of them visitors from various corners of the world.
ELEMENTARY PARTICLES / WHERE DO WE COME FROM?
Expanded Cinema performance by Aleksandar Lazar / Marko Milicevic (SR)
"Elementary Particles" / "Where do We Come From" is the first collaboration of film / video artists Aleksandar Lazar and Marko Milicević, a post-apocalyptic multi-channel film performance that brings together the worlds of analog and digital, mockumentary and found footage, experimental film and animation, in a combination of two works that (meta-) comment on each other and are methodologically interconnected.
"Elementary Particles" is a subversive mockumentary in the form of a 2-channel expanded performance: Filmoteka 16 movies on nuclear fission and the development of the atomic bomb have been edited in reverse order and fragmentary sequences, moving from the blast of atomic bomb to the satirical commentary on abuse of technology and effects of chemical warfare on the living world, to the "esoteric" particles of film grain which dissipate and then return to the cave of the dark matter of the evolution of civilization / primordial forms of energy, portraying the entire universe as an "alien" experiment of an absurd musical conductor, supported by the destructive urges of humanity.
"Where do We Come From" is an epilogue to the history of mankind which has been wiped off by a global catastrophe. The creation of life and man on Earth, through the condensation of spirit, from the appearance of the first, primitive life form to higher forms of intelligence, will (again) require many millions of years and work of evolution. The inspiration for making the video "Where do We Come From?" is the book of the same name by Russian ophthalmologist Dr. Ernest Muldashev, who made a scientific expedition to Tibet in search of the origin of mankind and published his results in this book.
Aleksandar Lazar (1991) is a graphician and multidisciplinary artist. In addition to his research of visual and music expressions, he examines structural parallels between music and visual media, as well as their linking and generating. He has finished his BA and MA studies at the Department of Graphic Arts (Faculty of Fine Arts) in Belgrade where he's currently attending his PhD studies.
Marko Milićević is the founder of the a / v initiative Kino pleme, an independent curator and program editor of the monthly event Live Soundtrack. He is the author of several films shot on the Super 8 and 16mm, and is involved in exporation of sound and electronic music, in collaborations with vocalists and poets and as a permanent member of the Old Soviet Dogs, ensemble for film music.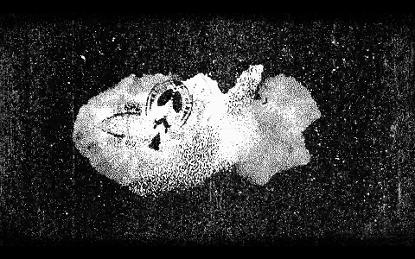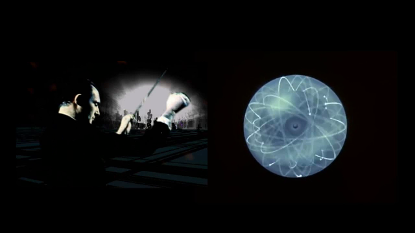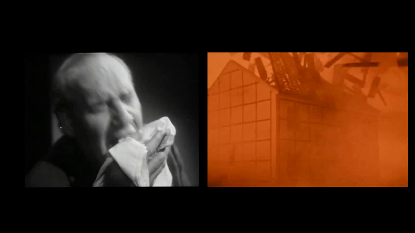 AUTHORS:
Aleksandar Lazar (pictured left) and Marko Milićević (pictured right)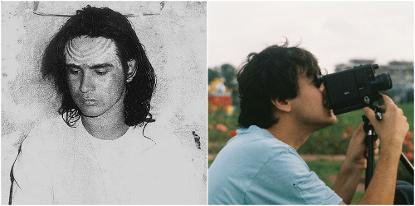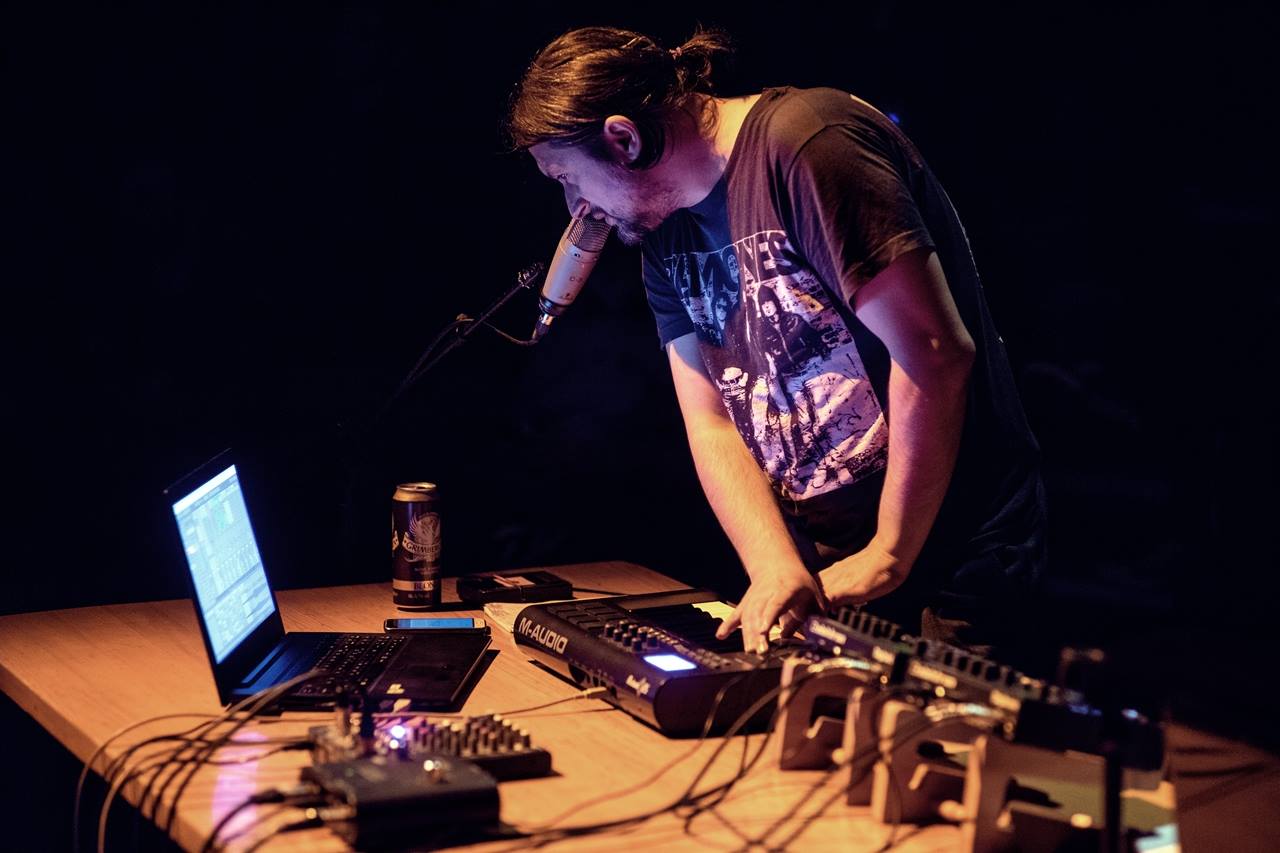 Tearpalm is an electronic project with no permanent residence, launched in 2007. Following the good press of first two albums, released for the pioneering DIY label from Croatia, Listen Loudest - Listen Loudest, this by-then one-man project has changed its direction to play in different combos, mostly in Belgrade and the surrounding area, after which he has released a handful of special editions and participated in numerous compilations, including tribute albums dedicated to the legendary bands Faust and Sleep Chamber.
On his latest album, released for 93.93 Publishing / 93dot93 in mid-August, Tearpalm has taken a turn toward 'greasier', heavy trip-hop / post-industrial sound, interspersed with the remnants of just about every electronic genre that may come to your mind.
EMMANUEL PITON - EXPOSED / France / 2017 / 7'/ Super 8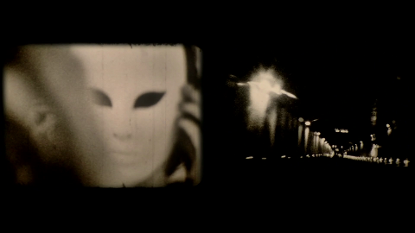 MUGE YILDIZ - A TRIP TO THE MOON / Turkey / 2016 / 10'/ Super 8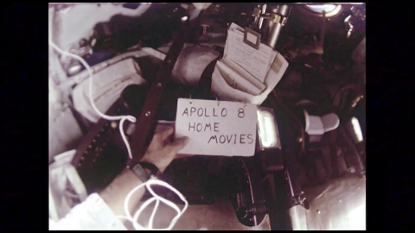 FALLING ELEVATOR MUSIC (SR)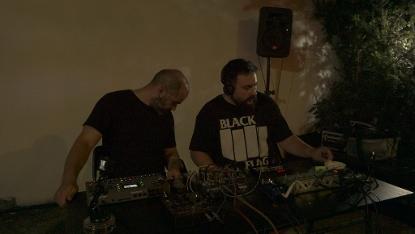 Falling Elevator Music is the new collaboration of Dobrivoje Milijanović and Vladimir Riznić, also active in the Belgrade Subharmonic Ensemble.
Born in Belgrade, 1981, Dobrivoje Milijanović designs sound for stage events, and creates electronic music and interactive sound sculptures, both at home and abroad, especially focusing on the intersection between science, sound and technology. He is also known as a member of collaborative noise/dub/techno project raum.null.
Vladimir Riznić is Belgrade born and based software developer and modular synth enthusiast. More than 10 years active in different music/performance projects, involving both innovative software and embedded hardware in art. Within his several ongoing projects Chien, Falling Elevator Music and Girls Next Gulag, creates dark and gloomy atmospheres with the colorful wires and cables of his modular synths and guitar pedals.
TELEMACH WIESINGER - WINGS TO HEAR / Germany/ 2019 /11'41''/ analog photographs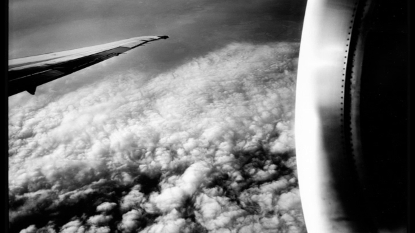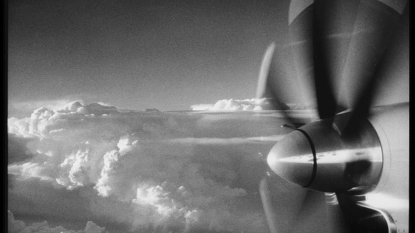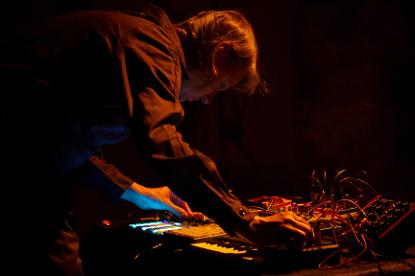 Elefante Branco (White Elephant) is the solo project of electroacoustic improvisation developed by the Brazilian sound artist Marcelo Armani that has as its base and concepts the fields of concrete music, minimalist and experimental music.
Live, he uses use analog and digital synthesizers, effects, contact microphones and the manipulation of field recordings through samplers as a material for real-time composition of sound structures that exploit frequencies, amplitude and timbre variations.